Home of Quality Bullmastiffs and English Bulldogs and Dogue de Bordeaux
Bulldog pups available now: Dorothy/Thor pups born 7/17/23 Accepting deposits now.
Pics on nursery page
Welcome to our story
We are Rick and Linda Crabb
We love our Bullmastiffs, Bulldogs, and our Dogue De Bordeaux. They are our family and each one is so important to us. We love their wonderful personalities and the love they give us. Dogs are so good for our health too. Sit and love on a dog to bring down your blood pressure. You can just feel the calmness that comes over you.
The breeding we do is to better the breed to get the very best puppies to show and place in wonderful family homes. Rick loves to show and handle other breeds too! He has championed out many for us and for others.
Linda loves staying home with the puppies and finding the best homes for the puppies we can't keep. If anyone needs doctoring or special care Linda is the one who loves to take care of them.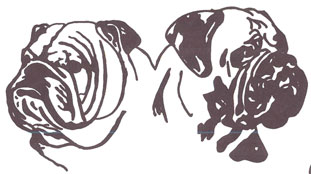 We all know how precious dogs are in our lives. We thrive in making them part of our family and they really are "man's best friend". Here at CCs Bullies we breed, raise, and show Bullmastiffs, Bulldogs and Dogue de Bordeaux. We have been raising and showing bullies for over 30 years. After meeting our first Bullmastiff and falling in love with the breed, we adopted our own Bullmastiff and then the Bulldog soon after. We fell in love and wanted to share our passion with others. We are the home of excellent show quality Bullmastiffs, Bulldogs and Dogue de Bordeaux.
Even though their size is incredibly large, Bullmastiffs are one of the sweetest breeds you will ever find. Bullmastiff's love children as well as adults. Their personalities are so loveable and they make amazing pets as well as show dogs. Rick has shown many Bullmastiffs to their championship and takes pride in their success. They are truly a versatile dog breed. We usually only have one litter of Bullmastiffs a year.
Bulldogs are the type of dog breed to keep you smiling and laughing all day long. They too, just like Bullmastiffs, are wonderful family dogs. Our bloodline comes from some of the best bulldogs from England and America. You can tell by looking at them that our Bulldogs are strong, confident dogs. We breed and usually have English Bulldogs available for adoption  once per year also.
All three breeds, Bulldogs, Bullmastiffs, and Bordeaux's make excellent house pets and are great for children. They love being in the company of their family. No matter what your purpose, whether to show for competition or just to love as a family member, we may have just what you are looking for.
Occasionally Bulldog, Bullmastiff, and Bordeaux puppies are available for loving wonderful homes. We try to have one litter a year of each breed. We do not make a living selling puppies, it is a passion to try and better the breed. One look at our precious babies you won't be able to look back. We have pictures on our website of the puppies who are ready for a good home. We love our babies and work hard to look for good family homes to adopt them. Feel free to email us to inquire about one of our available puppies. We have displayed many of the dog parents of the puppies we have. This way you can see what your beautiful baby should grow up to look like.  We take extreme pride and care in raising your puppy until they are ready to leave us and join their new family. They will be vaccinated and chipped if desired and should be able to go to their forever homes at 8 weeks old. Thanx for visiting our website and we look forward to hearing from you.
The picture below is a picture of one of the puppies we have had in the past who became a grand champion.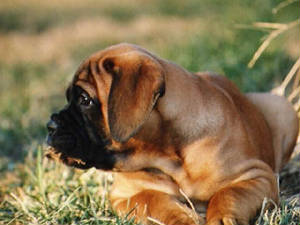 BULLMASTIFF PUPPIES   
 We have Bullmastiff, Bordeaux, and Bulldog puppies from time to time