BULLDOG PUPPIES
Our goal is to breed Bulldogs to improve the breed and to produce Champions with wonderful personalities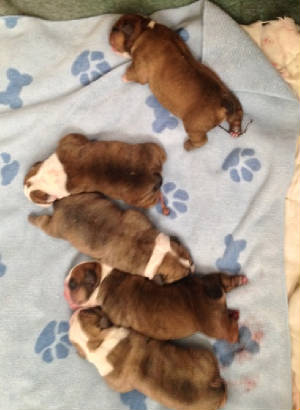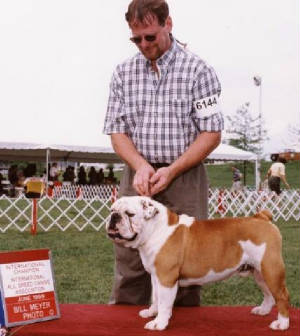 Int'l CH CC'S I'M YOUR HUCKLEBERRY, DOC was our first bulldog. We got him for fun and companionship, but fell in love with the breed. We studded him out for pick of the litter, which happened to be a male. CC'S I'M YOUR HUCKLEBERRY TOO, "Elvis" was adorable. We lost Doc at 10 1/2 with heart trouble. Until the very last he was the most active bulldog we've ever seen. He turned 10 yrs old in April 2005. We lost Elvis at age over 11. They both lived good healthy lives. Our Daughter-in-law painted a picture of these two named "Chip off the Block" as they looked like Bulldog bookends.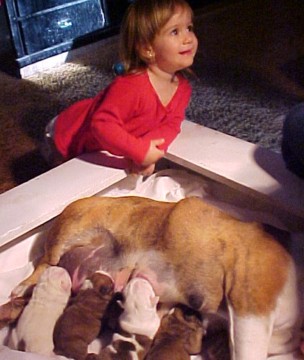 Nikki and Just born puppies (03/25/03) Puppies all found wonderful homes. She loves to "take care of the puppies". Actually she plays with them nicely.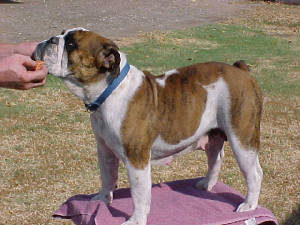 This is CC's Abbegail (Abbey). Our first pup out of Richardson's line. She has produced some very nice puppies including our own Isabella. She was bred to Rich Korn Licker (Korny) and had 3 girls and 2 boys on Sept 27, 2004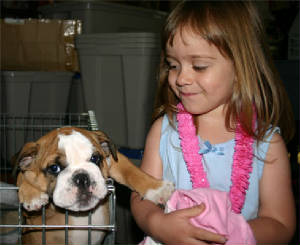 Nikki and Amy Jo's Puppy 6/2004
Nikki is our precious granddaughter and she loves the doggies and plays with all the pups as they are growing up. She is very sad when her favorite goes to their forever home.